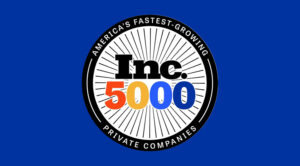 AuctusIQ ranks among America's Fastest-Growing Private Companies
Lincoln, NE, August 17, 2023 – AuctusIQ ranks number 2148 on the 2023 Inc. 5000, a list curated annually by Inc. of the fastest-growing private companies in America. The prestigious ranking provides a data-driven look at the most successful companies within the economy's most dynamic segment—its independent, entrepreneurial businesses. Facebook, Chobani, Under Armour, Microsoft, Patagonia, and many other household brands gained their first national exposure on the Inc. 5000.
Among the top 5000 companies this year, the median three-year revenue growth rate surged to a remarkable 2,238 percent. Collectively, the Inc. 5000 companies have contributed 1,187,266 jobs to the economy over the past three years. AuctusIQ, in particular, secured a ranking of 2148 for its inaugural year on the listing by achieving an impressive growth rate. The growth is attributed to AuctusIQ's software-based performance assessments and "Smart Growth" sales performance platform, which supports mid to large-size business-to-business sales teams to better assess their skills and improve performance.
Troy Kanter, CEO of AuctusIQ, expressed his enthusiasm, saying, "Being recognized on the Inc. 5000 list is a testament to the hard work and dedication of our team. We are proud to be among the fastest-growing private companies in America and will continue to innovate as we help clients improve sales performance."
From its inception, AuctusIQ has been laser-focused on helping sales organizations adapt to the future of selling by providing data insights and AI-backed tools that help sales organizations find talent, develop talent, and win more deals. In 2020, AuctusIQ released the culmination of 350 studies outlining the future seller's traits and competencies to help improve sales organization performance.
"Over the past three decades, our exploration of sales organizations has equipped us with insights into the evolving nature of sales and the evolving needs of buyers," said Dr. Courtney McCashland, Co-Founder and Chief of Science & Strategy for AuctusIQ. "Today's buyers are complex, influenced by various factors and internal pressures, and our product equips sales teams to navigate these dynamics for enhanced performance."
About AuctusIQ
AuctusIQ is a new-to-market growth intelligence company that has developed a sales performance platform based on years of studying what differentiates the best salespeople from the rest, as well as examining how leaders turn that competitive advantage into growth. AuctusIQ offers solutions specifically designed to help improve sales performance among business-to-business clients. AuctusIQ has helped dozens of mid-market, fast-growth companies, as well as multiple Fortune 1000 organizations, improve win rates, revenue growth, and sales team performance. Visit https://AuctusIQ.com.
More about Inc. and the Inc. 5000
Methodology Companies on the 2023 Inc. 5000 are ranked according to percentage revenue growth from 2019 to 2022. To qualify, companies must have been founded and generating revenue by March 31, 2019. They must be U.S.-based, privately held, for-profit, and independent—not subsidiaries or divisions of other companies—as of December 31, 2022. (Since then, some on the list may have gone public or been acquired.) The minimum revenue required for 2019 is $100,000; the minimum for 2022 is $2 million. As always, Inc. reserves the right to decline applicants for subjective reasons. Growth rates used to determine company rankings were calculated to four decimal places.
About Inc.
Inc. Business Media is the leading multimedia brand for entrepreneurs. Through its journalism, Inc. aims to inform, educate, and elevate the profile of our community: the risk-takers, the innovators, and the ultra-driven go-getters who are creating our future. Inc.'s award-winning work reaches more than 50 million people across a variety of channels, including events, print, digital, video, podcasts, newsletters, and social media. Its proprietary Inc. 5000 list, produced every year since 1982, analyzes company data to rank the fastest-growing privately held businesses in the United States. The recognition that comes with inclusion on this and other prestigious Inc. lists, such as Female Founders and Power Partners, gives the founders of top businesses the opportunity to engage with an exclusive community of their peers, and credibility that helps them drive sales and recruit talent. For more information, visit www.inc.com.